The CaNaMEI Project: Rediscovering Ancient Ethiopian Manuscripts in Italian Libraries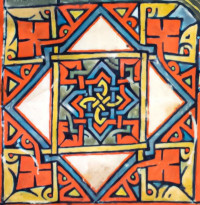 CaNaMEI (= Catalogo Nazionale dei Manoscritti Etiopici in Italia) is a project jointly funded by the IPOCAN, Istituto per l'Oriente "Carlo Alfonso Nallino", and by the ISMEO "Associazione Internazionale di Studi sul Mediterraneo e l'Oriente". The project is headquartered in the Dipartimento Asia, Africa e Mediterraneo of the Università di Napoli "L'Orientale". The Coordinator is Prof. Dr Gianfrancesco Lusini, assisted by Dr Massimo Villa (PhD, UNO-Napoli), by Dr Jacopo Gnisci (PhD, British Museum and University of Oxford), and by the restorer Dr Gioia Bottari (MA). The CaNaMEI project has a three-fold aim: to bring to light and catalogue a number of small- and medium-sized collections of Gəʿəz and Amharic manuscripts still kept in Italian libraries and cultural institutions; to promote and support the appreciation and preservation of these objects in their setting through appropriate restoration and presentation; and to digitize, store, and publish them online to ensure maximum exposure and accessibility.
The first CaNaMEI scientific mission was carried out in the course of 2019 at the Museo Archeologico e d'Arte della Maremma (MAAM) of Grosseto, Tuscany, which houses a 15th–early 16th century illuminated Ethiopic Gospel book on permanent loan from Archbishopric of Grosseto. The newly discovered manuscript (inv. 191) – 340 x 260 x 100 mm, 179 folios, with wooden boards – provides an exquisite example of the art of calligraphy and illumination in medieval Ethiopia. An ongoing codicological, philological and art-historical study of the manuscript will examine the contribution of this witness to the text-critical reconstruction of the Gəʿəz New Testament and to our understanding of the history of Ethiopic Gospel books illumination.
In consultation with the relevant offices of the Soprintendenza Archeologia, Belle Arti e Paesaggio, a restoration of the manuscript has been performed, returning the object to its original splendour. This intervention was made possible by the financial support of the MIUR project "Studi e Ricerche sulle culture dell'Asia e dell'Africa: tradizione e continuità, rivita-lizzazione e divulgazione", headed by IPOCAN and ISMEO. The next phase of the project will aim to digitize the manuscript and put it on display in one of the rooms of the MAAM as a remarkable example of the art of manuscript making in Ethiopia.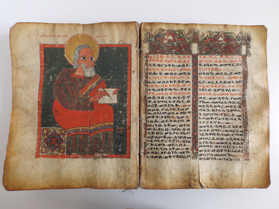 Museo Archeologico e d'Arte della Maremma of Grosseto, inv. 191, ff. 67v–68r
(photo G. Lusini, 2018)
The CaNaMEI project carried out a second scientific mission in 2020 at the Archivio Storico of the Archbishopric of Savona (Liguria), where a 15th–early 16th century magnificent Gädlä Sämaʿǝtat, or 'Acts of the martyrs', is now located, following a private donation. The large-size manuscript (not yet inventoried) – 493 x 375 x 150 mm, 211 folios, with wooden boards – is a deluxe codex, enriched by gorgeous ḥaräg-ornaments opening many of the commemorative readings. The codicological, philological and art-historical study of this artefact is also in progress.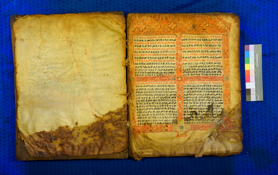 Archivio Storico of the Archbishopric of Savona, f. 1v–2r
(photo CaNaMEI 2020)
As in the case of the Gospel book of Grosseto, the restoration and the digitalization of the Gädlä Sämaʿǝtat of Savona will be performed in the course of the year 2020, through financing from the same MIUR project headed by IPOCAN and ISMEO. According to the project schedule, the detailed description of the two codices, with particular emphasis on their material, textual, iconographic features and state of preservation, will be the object of a volume planned and edited by the CaNaMEI research team. Finally, these manuscripts, together with other objects preserved in several Italian libraries and cultural institutions, will be displayed in an exhibition devoted to the production and illustration of the codex in Christian Ethiopia.
(from Rassegna di Studi Etiopici, 3a serie (LI), 4 (2020), pp. 175–77)
A presentation of the CaNaMEI project held in Rome, Società Geografica Italiana, on the occasion of the Conference: I fondi orientali conservati presso le istituzioni culturali di Roma, 12 October 2020

  click to watch the video